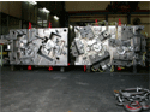 Sun Tong Seng Mould-Tech Sdn. Bhd. is established in 31 May 1977. It sits on a total production area of 2660 sq. meter (28,600 sq. feet). Our company specializes in fabrication molds for Plastic Injection and Blow Molds. Our scope of customers consists of Automotive, Electrical Appliances, Office & Industrial Equipment, Building and etc.


Our Principal Objective : Impeccable Quality Moulds Make Great Products (Commercial Success)

We always believe in delivering impeccable quality moulds, which are consistent with our clients' business needs and also no matter how complex it mat be, in making our clients' products achieving the expected commercial success. In line with our principle objective, we are continuously investing in high tech methods for mould fabrication in order to ensure our clients reach its target market on time at the most favourable costs. Meanwhile, our highly skilled technicians and engineering teams whose relevant expertise further enhanced our confidence and commitment towards this principle objective. In short, there is no miracle in our success story.

Amassing Subtantial Power to Perform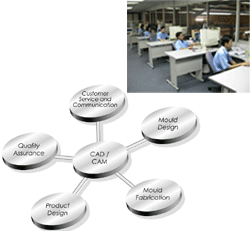 High tech methods (CAE/CAD/CAM) coupled state of the art high speed CNC and EDM machines which are handled by skilled technicians and engineering teams enable us to achieve perfection (Quality Assurance) in Product Design, Mould Design and Mould Fabrication. The combination process assures customer satisfaction, throughout conceptual to production stage, by producing almost error free design and fabrication hence reducing the production time and cost of doing business.

In line with our dedication to be the best, our CAE/CAD/CAM systems are capable to engineer and produce 3D interactive solid models and transmit the complex and detailed design data via our in-house high speed computer network for manufacturing precision. The sharing of same database enabling us going directly into machining process hence virtually eliminating the possible chance of human error and also able us to cater for subsequent updates and changes in design. The data for actual finished products are measured through electronic measuring using validating equipment. There are no compromises in our commitment towards achieving precision accuracy in mould fabrication process.

CAE/CAD/CAM

At Sun Tong Seng Mould-Tech Sdn. Bhd., we are prepared to cater to your needs with a workforce capable of working 24 hours a day for 7 days a week without sacrificing our high quality standards. Our main priority is to maintain our clients continued satisfaction from our services and products. Putting our best efforts into an outstanding service at competitive rates is our way of maintaining our cutting edge.